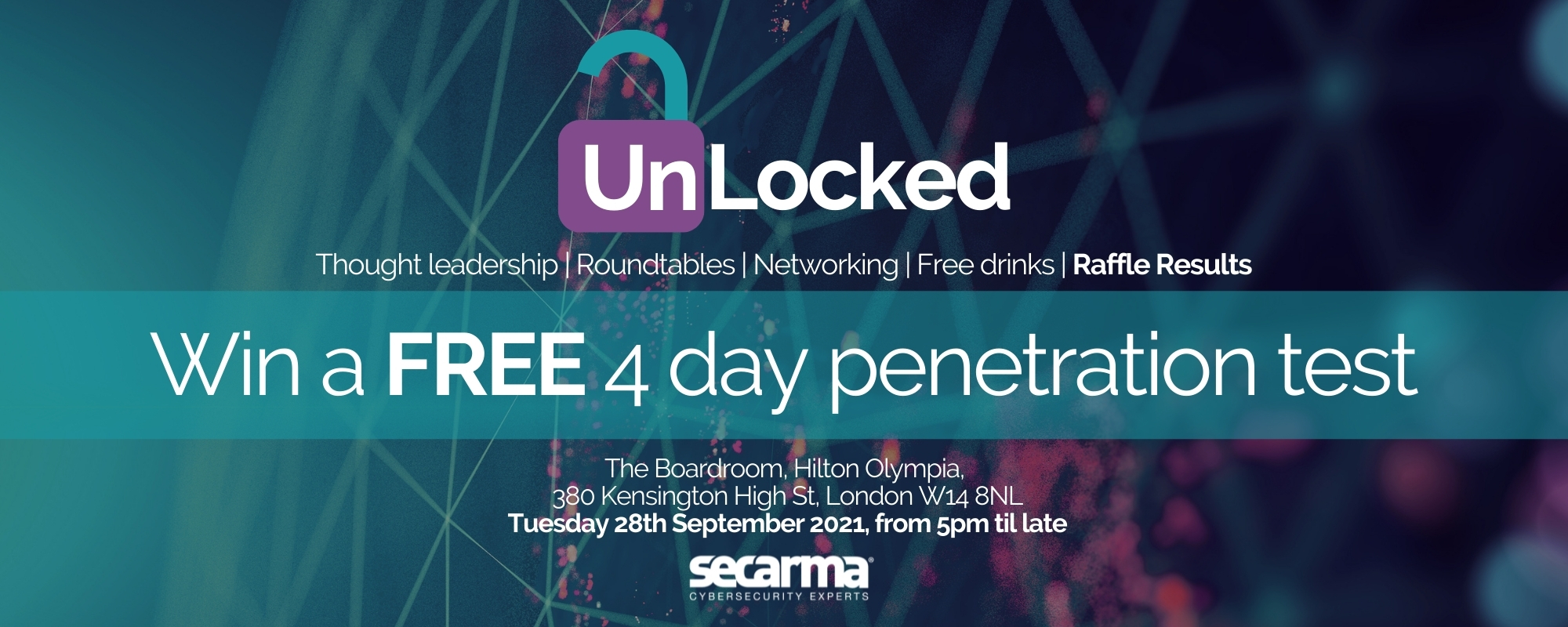 If you're coming along to the International Cyber Expo, why not pop into UnLocked: London Olympia after the convention to continue the conversation, learn from the experts, and have a drink on us?
To be in the running to win a 4 day penetration test for your organisation, come and speak to our reps at booth C57 for a raffle ticket and a wristband/leaflet that will guarantee you entry to the event. The winner will be announced on the night!
We've got a line-up of some well-known cybersecurity speakers, who will be bringing their expertise to the night, as well as plenty of opportunity to network, and the chance to win vital cybersecurity services.

Evan Jones – Security Architect at Complete Cyber
In this presentation, Evan aims to demystify security architecture overall – explaining the different stages of the process, where things can go wrong, and how to ensure your network is fortified from the ground up.

Thomas MacKenzie – Founder and CEO of RankedRight
In this talk, Thomas will give some examples of where CVSS wasn't enough and propose how vulnerability intelligence can be used to improve an organisation's vulnerability management program.

Holly Grace Williams, MD at Secarma
Building on her talk at the International Cyber Expo, Holly brings us a deeper look into how to run effective security testing, as well as how not to run it. Alongside a bunch of funny stories about what hackers can get up to during tests, she'll also offer heaps of practical guidance on how to get the most out of your pentesting.

David Barr – Principal CIRT Consultant at Secure Impact
EncroChat was an encrypted communications platform that was trusted by large-scale organised crime groups around the globe. This presentation will tell the interesting story of the platform, its capabilities, and the challenges it posed to digital forensics.
When? Tuesday 28th September, from 5pm onwards.
Where? The Hilton, Olympia
What to bring? A raffle ticket and a wristband/leaflet which you can pick up from our booth on Day 1 of the International Cyber Expo, stand C57. 
If you'r not attending ICE but would like to come along to UnLocked and take part in the raffle, book your place here and you'll automatically be added to the guest list and entered into the raffle.
Note: Only attendees that are there on the night are in with a chance of winning their prize – if a number is called but that person isn't there, another number will be called instead.
Limited spaces available. Find out more information and book your place for UnLocked here.