Jack O'Sullivan
September 22 2021
The security experts at Secarma are pleased to be exhibiting at the International Cyber Expo at the Olympia in London, on the 28th and 29th of September.
Based in the heart of the global cybersecurity market, the International Cyber Expo is bursting with opportunity. The convention is designed to help key buyers source the solutions they need to improve the security and resilience of their business and its critical infrastructures.
After our successful trip to the NCSS in Birmingham, which you can read about here, we're excited to do it again in London! This will be a great opportunity for our team to see what security insights the capital's best and brightest have to offer, as well as network with industry insiders, and build connections with prospective clients.
What to expect
If you'd like to talk cybersecurity with our team, you can find our experts at stand C57. Once again, we're bringing a diverse team, with members from multiple departments, so we'll be well equipped to answer any of your questions.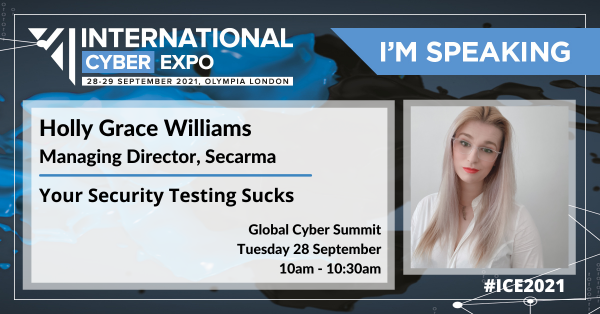 Holly Grace Williams, MD at Secarma, will be kicking off the talks on the first day of the convention at the Global Cyber Summit. Her punchy talk title reflects her ethos of making security topics fun and easier to digest, and the presentation itself will consist of a breakdown of the typical Penetration Testing engagement, how it works and how – quite often – it sucks! With funny stories and practical guidance throughout, Holly Grace will highlight how companies can get more out of their security testing.
We look forward to seeing you at stand C57 on the 28th-29th September. Don't forget to register at the International Cyber Expo for your free pass today!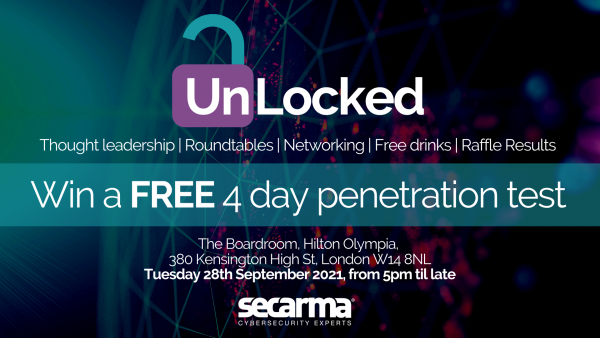 What's a convention without an unofficial afterparty? Once you've perused stands and listened to presentations at the International Cyber Expo, head over the road to Hilton Olympia for our networking event. From 5pm onwards, in the Hilton's spacious Boardroom suite, our experts will be carrying on the security conversation. This special evening event is designed to bring together IT managers, CISOs, and other members of the security community for thought leadership talks, security discussions, and networking.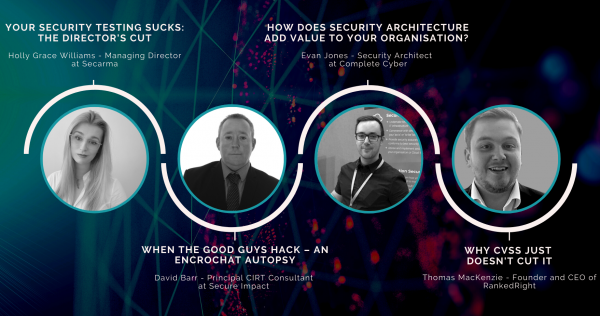 Come and have a drink and some food with our team, and we'll keep you entertained for the evening. We're lucky to also have an assist from the following guest speakers:

Evan Jones – Security Architect at Complete Cyber
The growing complexity of the IT landscape and increase in threats means that robust and comprehensive protections must be implemented to protect your company-wide digital assets. In this presentation, Evan aims to demystify security architecture overall – explaining the different stages of the process, where things can go wrong, and how to ensure your network is fortified from the ground up.
Thomas MacKenzie – Founder and CEO of RankedRight
CVSS has been around since 2005 and has undergone many changes. Unfortunately, organisation that rely solely on CVSS are finding themselves in trouble. In this talk, Thomas will give some examples of where CVSS wasn't enough and propose how vulnerability intelligence can be used to improve an organisation's vulnerability management program.

Holly Grace Williams, MD at Secarma
Building on her talk at the International Cyber Expo, Holly brings us a deeper look into how to run effective security testing, as well as how not to run it. Alongside a bunch of funny stories about what hackers can get up to during tests, she'll also offer heaps of practical guidance on how to get the most out of your pentesting.

David Barr – Principal CIRT Consultant at Secure Impact
EncroChat was an encrypted communications platform that was trusted by large-scale organised crime groups around the globe. This presentation will tell the interesting story of the platform, its capabilities, and the challenges it posed to digital forensics.
Join us in The Boardroom – the ground floor suite at Hilton, Olympia, 380 Kensington High Street, London, W14 8NL from 5pm onwards.
Limited spaces available. Book your place now. 
We're really looking forward to seeing you, now that events are back in full swing. If you'd like to talk cybersecurity, pop into stand C57 at the International Cyber Expo or join us afterwards at UnLocked.
See you there!