Jack O'Sullivan
August 18 2021
At Secarma, we're all about in-person events and that's why we're excited to be attending the National Cyber Security Show (NCSS) on the 7-9th September at the Birmingham NEC.
We're pleased to be kicking off event season by exhibiting at an outside of London – expanding our horizons reaching a whole new audience. As people and organisations alike officially emerge from over two years of lockdown, what better place for a cybersecurity conference than one of the most accessible exhibition venues in the UK? With exhibitions, talks, and a start-up village, the NCSS is a great opportunity for our experts to network with other businesses in the cybersecurity space, as well as businesses who may need cybersecurity services.
As part of The Security Event – the UK's No.1 commercial, enterprise and domestic security event – the NCSS aims to promote core cyber essentials and give attendees a one-stop shop to protect their business from cyber threats. The exhibition will showcase the world's leading security brands and attract thousands of attendees.
What to expect
For the NCSS, we're bringing a team with a variety of expertise and specialisms. Find us at booth C10 with members of our technical department, marketing department, account managers and our sales director. Bringing such a diverse team means that we'll be prepared to answer any question you may have about cybersecurity and our services.
Holly Grace Williams, our Managing Director, will be delivering a talk on day 2 of the convention titled 'Hacking for SMEs'.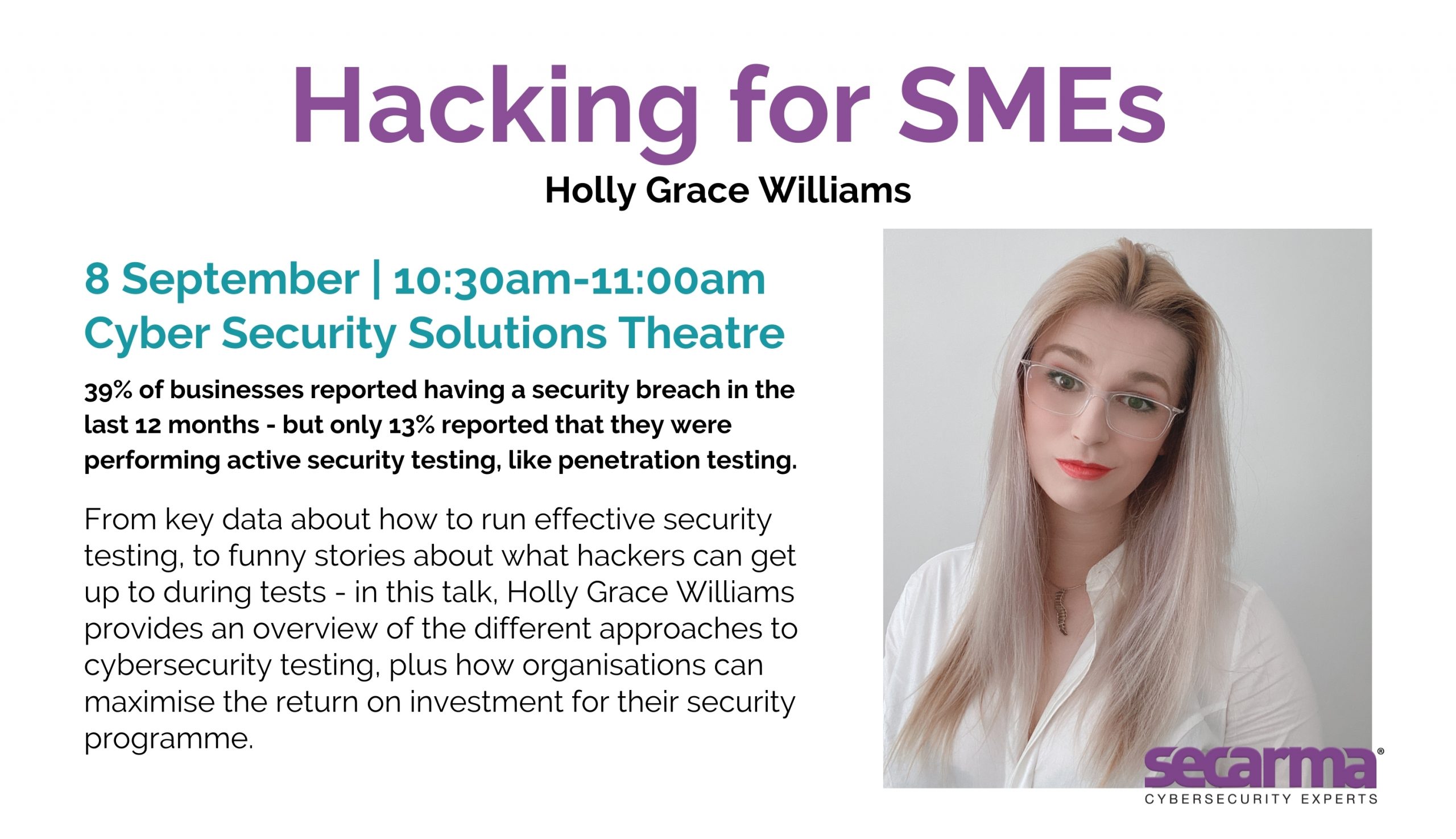 We look forward to seeing you at booth C10 on 7-9th September. Don't forget to register and secure your place today!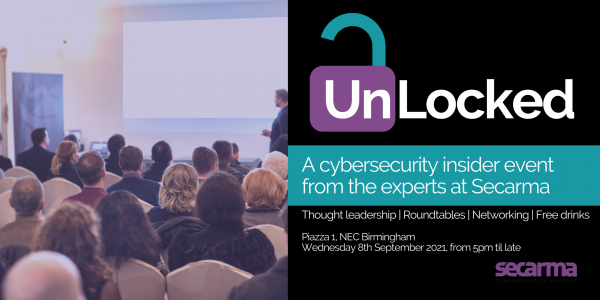 If you're coming along to the National Cyber Security Show, why not pop into Piazza 1 after the convention to continue the conversation?
UnLocked, hosted by the cybersecurity experts at Secarma, is designed to bring together IT managers, CISOs, and other members of the security community for thought leadership talks, security discussions, and networking.
We're lucky to have the following talks scheduled for the event:

Building on her talk at the NCSS, Holly Grace Williams – Managing Director at Secarma – brings us a deeper look into how to run effective security testing, plus a load of funny stories about what hackers can get up to during tests. Bringing all her experience, expertise, and passion, this is sure to be an exciting and informative talk.

Join IntaForensics' Principal Incident Response Specialist Philip Ridley in a discussion about the main components of a ransomware attack. This talk will cover how hackers infiltrate systems, what they do once they're in and the impact of cyber-attacks, as well as how IntaForensics stand out from the crowd. 
IntaForensics are one of the leading consultancies in the UK, and have been providing Digital Forensics and Cyber Security expertise, software and services for over 14 years. They aim to ensure forensic services are applied effectively and ethically whilst maximising technological applications and opportunities for innovation.

This talk will be delivered by Rob Demain, CEO & Founder e2e-assure, and will cover problems in the cybersecurity industry and what needs to be focused on to drive meaningful cyber outcomes for SMEs.
e2e-assure is a specialist SOC-as-a-Service XDR and MDR provider. They integrate with and leverage existing investments in cyber security including SIEM, cloud security and endpoint solutions to deliver a quick and effective service without doubling the cost.

Harold Groothedde, CEO and Co-Founder of ITEXACT, will be talking about how ITEXACT's Surveil tool can address the challenges of enabling affordable and secure remote working that are currently facing IT leaders. With more and more businesses taking to remote working, this is a hot-topic and not one to miss.
ITEXACT is a world-leading consultancy and managed services provider, specialising in the optimisation, security, and control of Microsoft cloud environments – all through the AI-powered Surveil platform.

Marc Avery is a Chief Information Security Officer and Cyber Security Advisor with over 20 years' experience providing security assurance of some of the most sensitive UK and Middle Eastern IT programmes and Critical National Infrastructures. In this talk, he'll be highlighting the importance of supply chain security, and discussing how to discover your true enterprise security risks.
Cyber Chain Alliance was established in 2018 from a desire to deliver clear, bespoke security advice with an exceptional client experience. As a cybersecurity integrator, they offer a clear, valuable and relevant understanding of an organisation's current security posture and future roadmap.
Limited spaces available. Book your place at UnLocked now.
Join us on the 8th September at Piazza 1 at the NEC from 5pm onwards for free drinks, food, and a whole host of in-depth security presentations from our technical staff, our customers, and other industry insiders.
We're really looking forward to seeing you, now that events are back in full swing. If you'd like to talk cybersecurity, pop into booth C10 at the NCSS or join us afterwards at UnLocked. See you there!